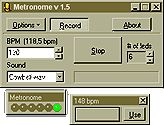 To download the metronome Click Here
This program is in a Zip format that therefore
you will need Winzip in order to open it.
To download Winzip 7.0 for Win95/98 please Click Here
This program was created by V4 Software


---

Some of these documents will need the Adobe Acrobat Viewer in order to view them properly. These documents are marked with the PDF Icon. Click the below graphic if you need to download the latest version of this viewer.

---
This site is best viewed with an 800x600 Screen Resolution using
Microsoft Internet Explorer.
Copyright © 1999 D R Parman and Associates, Inc. - All Rights Reserved